Case Study: New Hanover Medical Center @ Wilmington, NC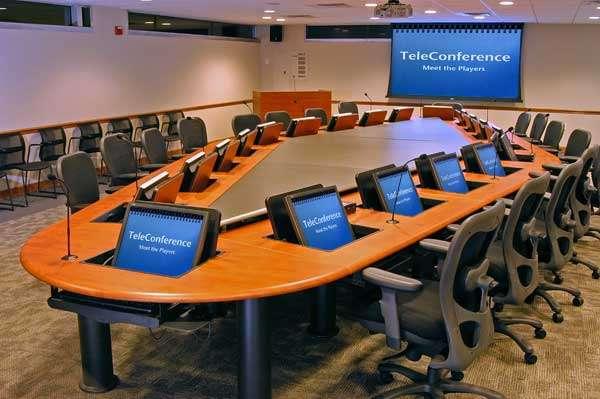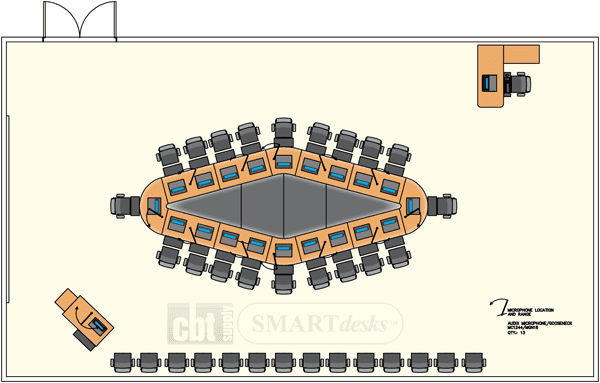 The Teleconference Center at Cape Fear Building C features the Piano Sonata 20 as its centerpiece. Twenty 19" LCD monitors are supported with flipIT® 18 Monitor Support Systems. FlipIT® allows the monitors to be rotated under the table top when not in use. CPUs and wire management are stowed in the center well, covered by Piano's signature lids that raise for easy access.
Twelve Audix microphones are grommet mounted too 18" adjustable stands to serve 20 users. ADX218 Audix condenser microphone was specified for its excellent performance characteristics and cardioid pattern to suppress ambient noise.
An MFI-603042-TKF flipIT® Presenter's Podium with FUS lift-up shelf was specified. One Audix ADX218 grommet mounted condencer microphone was installed.
An IFI-603030 flipIT® Instructor's Desk with return was specified as an AV control center.
Finish selections were made to coordinate. The podium and instructor desk were specified with the Wild Cherry set for high pressure laminates, and the Piano 20 was finished in Hayward Cherry and Shark Grey 3D thermofoil.
To facilitate installation, a plywood template of the Piano 20 was made. This was laid in position for precise core drilling location of power and data in the floor. The power and data lines were captured in four wire management Doric column legs, and routed to the central wire management ways.