Government & GSA

Federal agencies seeking qualified suppliers for government contracts need to use a vendor approved by the General Services Administration (GSA) SMARTdesks®, a longtime GSA Contract Holder, contract # 27F-0004P and has worked with numerous government agencies in the U.S. and abroad. Our experience working with government contracts, together with our outstanding product line, makes us the premier technology furniture vendor of choice for government agencies worldwide.
GSA Approved Office Furniture Vendor
Modern government agencies find themselves in need of furniture for a range of purposes, from office furniture to training facilities and specialized meeting rooms. Frequently, these acquisitions need to be highly specialized around an unusual set of technical and space limitations. SMARTdesks® has responded with an innovative, customizable product line that can be modified to fit the most unique user IT needs as well stringent space planning requirements.
When you choose SMARTdesks®, you're selecting an experienced veteran. In business for more than 20 years, SMARTdesks® has worked with numerous agencies and governments worldwide, including:
U.S. State Department
U.S. Army, Navy, Air Force and Coast Guard
Department of Veterans Affairs
Department of Homeland Security
Federal Aviation Administration
City of South Perth, Western Australia
City of Surrey, BC, Canada
Hydro-Quebec, Gaineau, Quebec, Canada
NASA
We've worked on projects of every conceivable size, and addressed highly complex integration and design challenges. Use our expertise to help get a project done on time and on budget.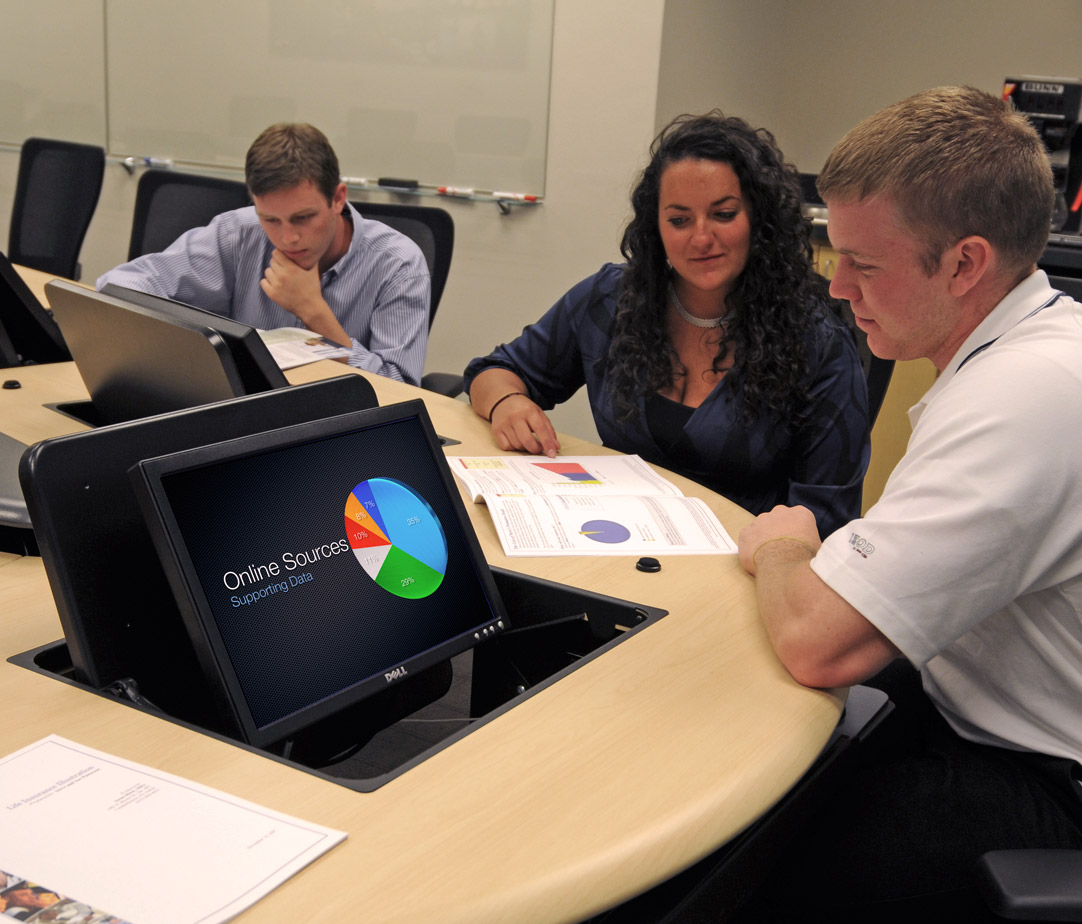 Government Furniture Supplier
Government contracts require very specific types of suppliers. They must be reputable, have the proper certifications, track records and be able to deliver on time and within budget.
A user is not going to find a more dependable single source for all your office and conference room furniture needs than SMARTdesks®. In business for more than 20 years, we've developed a reliable, innovative suite of office and training furniture solutions, capable of full computer technology integration and refined through more than two decades of field testing and customer feedback.
Our Piano, Piatto and Artisan conference tables are ideal for computer conference rooms. Mount your desktop or laptop computers within the unit for on-demand computer access by every group member.
Computer tables like the HorizonLine, Pi and Motif have been deployed in countless computer labs due to their versatility and high level of technology integration.
The Exchange, Quark and Trapeza allow a single meeting room to achieve whole new levels of flexibility. Your users will be able to meet in conventional classroom layouts, gather in small groups, sit or stand, or move freely about the space - even within a single meeting or session.
All of these solutions and more can make use of our patented flipIT® computer mounting technology. This innovative "MULTIUSE" option allows your users to access computer screens as needed, and stow them within the desk when not in use. It is a perfect solution for group interaction with or without technology.
Customizable Furniture Solutions
No two government contracts are alike. Every project has numerous special requirements. Out-of-the-box solutions do not address these requirements. SMARTdesks® has responded with products built for modification to mate with your specific needs. You may select from an array of custom options, including technical features addressing a wide selection of artistic finishes coordinated to your interior design. And we offer a range of accessories, including quality seating solutions, podiums, storage cabinets, power & data components, raised flooring and more.
SMARTdesks® is your GSA-approved single source for the full furniture solution around your unique requirements and budget needs.