Corporate Training

Modern corporate training facilities have to fill a range of instructional and technological requirements. And companies may be limited in the kind of space they can dedicate for training needs. Innovative furniture solutions from SMARTdesks®, an industry leader in educational furniture solutions, can offer the right balance of flexibility, arrangement and technological integration to create powerful learning experiences for their employees in even the smallest spaces.
Corporate Training Room Furniture
The 21st century corporation can have a significant array of ongoing training needs. But the nature of curriculum delivery can vary widely depending on the audience. Sometimes students will need to be able to access a computer; in other cases, instructors will want the distraction of a computer screen out of the way so students can focus and communicate. In some instances, instructors want a conventional classroom layout one day and small group arrangements the next.
The bottom line: no single room setup can be the answer in every situation. SMARTdesks® has responded with innovative conference room furniture engineered to provide your organization with a quality meeting space.
SMARTdesks® is a seasoned veteran in dealing with these sorts of challenges. In business for more than 20 years, SMARTdesks® has worked with a range of Fortune 500 companies, including:
Chevron
Virgin Mobile
Lockheed Martin
BNSF Railway
Johnson & Johnson
Our involvement in countless projects can make the difference when trying to get a project completed with minimal hassle.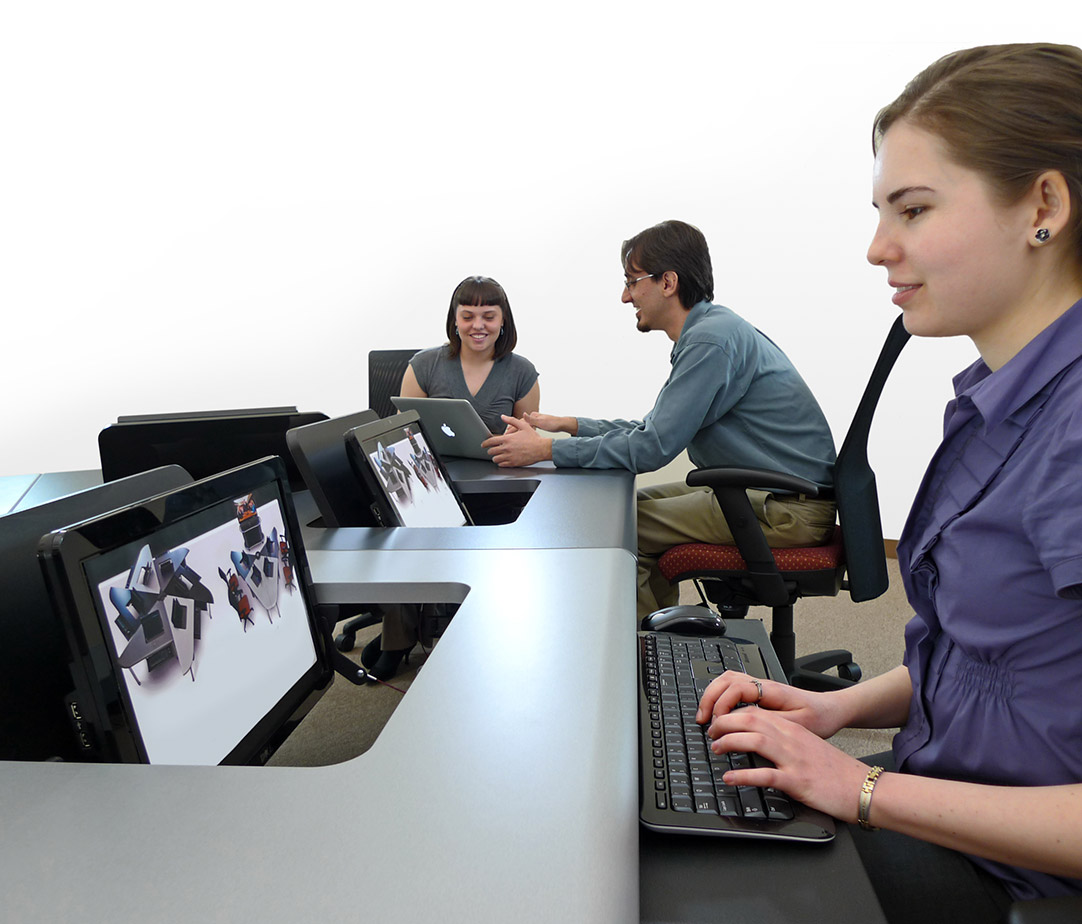 Corporate Training Room Furniture Solutions
The modern corporation offers training classes of every shape and size. And a basic room with tables and a whiteboard just won't cut it. Many courses require computers offering access to proprietary software, meaning laptops are out of the question. Moreover, sometimes instructors need to get the computers out of the way for more effective student communication.
Moreover, what if seating arrangement is as important, or more vital, than computer access? Sometimes instructors need a conventional classroom setup, but other instances call for small group interactions.
Most of all, the typical company just doesn't have the office space for multiple training rooms for different class layouts. Generally, you have one dedicated training room (if you're lucky).
This is the SMARTdesks® difference: a range of innovative furniture solutions designed with technology integration, maximum flexibility and instructional best practice in mind, refined through more than two decades of experience with companies of every shape and size.
The Exchange embraces the best in active learning and technology integration. These lightweight, durable tables can be arranged in a number of different patterns and layouts depending on your needs.
The Pi can allow your instructional space to become almost anything, from a conventional classroom layout to a small arc to foster group interactions.
The Quark offers maximum mobility and student positioning. Whether it's sitting or standing, from fixed small group arrangements to free movement across a meeting space, the Quark can allow your space to accommodate your needs in nearly any way imaginable.
All of these solutions and more utilize our patented flipIT® computer technology. Empower your users to access a computer on an as-needed basis: flip open the desktop when the screen is needed, shut it down when it's getting in the way.
Customized Corporate Training Furniture Solutions
Every corporate training department has some unique requirement that an out-of-the-box solution just can't handle. SMARTdesks® has responded with a line of training furniture solutions that can be modified around your specific requirements. Choose from an array of custom options, ranging from technical features to a wide selection of quality finishes. And we have a range of accessories, including quality seating solutions, portable partitions, power & data components, wire management solutions and more. You'll have a complete custom-built furniture solution that will fit your unique requirements and stay within budget.