Computer Labs

The 21st century computer lab requires more flexibility than ever before. Let SMARTdesks®, an industry leader in innovative technology furniture, help you create a first-class digital space in which your users can thrive.
Computer Lab Furniture Solutions
Today's computer labs have to do far more than simply give people a place to use a computer. To address these challenging requirements, SMARTdesks® has responded with innovative furniture solutions engineered to provide exceptional flexibility for your organization and your users.
We bring a wealth of experience to your project. In business for more than 20 years, SMARTdesks® has worked with a range of Fortune 500 companies, colleges and universities, including:
Chevron
University of Notre Dame
University of Massachusetts
Virgin Mobile
Arizona State University
Use our wide range of experience to avoid many pitfalls and unexpected challenges that can arise when remodeling an existing space or building a new space from scratch.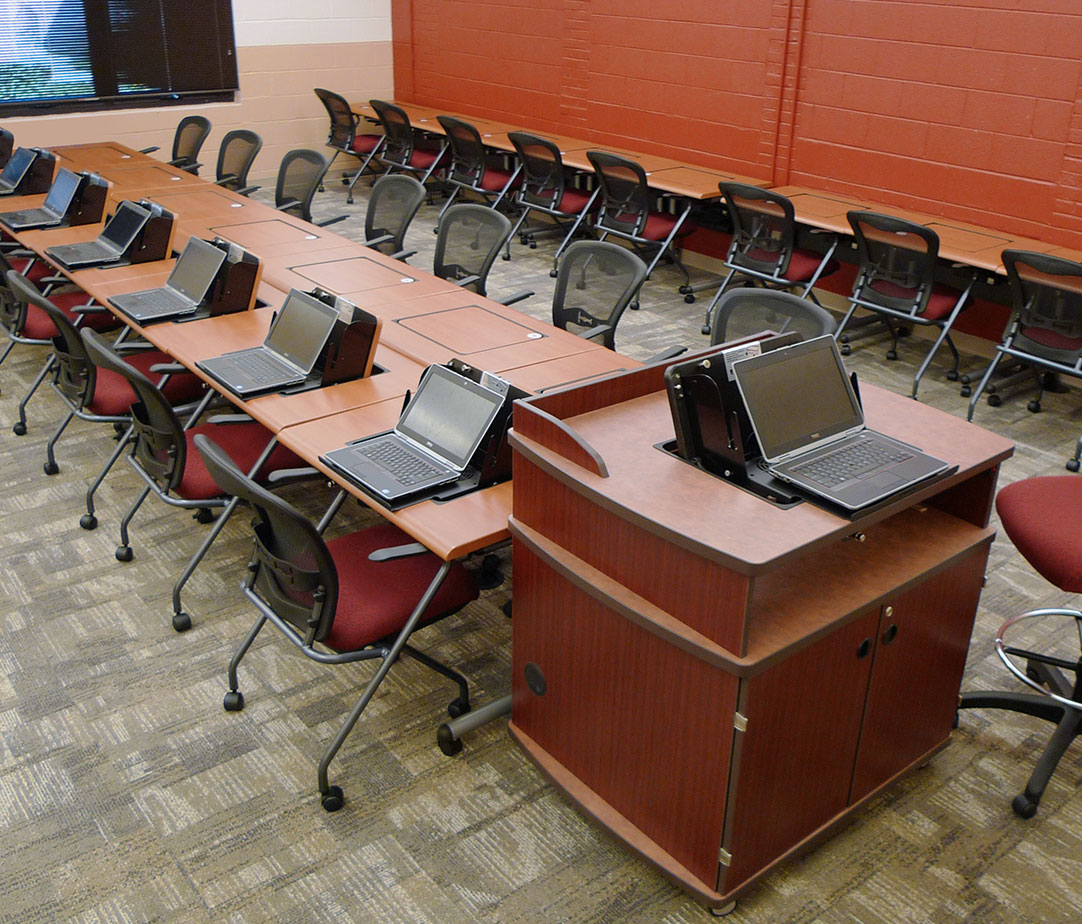 Computer Lab Furniture Experts
The days of a computer lab simply being a room full of desktop computers are long since over. Modern computer labs must satisfy a range of constantly evolving requirements. Today's computer labs have to be all things to all people: places for individual study, small team meetings and larger group interaction. They must conform to legal requirements, such as ADA compliance. And computer labs must provide computer access and accommodate BYOD expectations on the part of their users.
Modern computer labs require modern furniture. So SMARTdesks® has drawn from more than two decades of experience to develop a range of furniture solutions to suit the needs of today's computer labs.
Our Motif computer table is a proven solution used in university computer labs across America. It provides individual computer access while also preserving line of sight between users, creating a flexible environment for individual study or group interaction as needed.
For a similar experience in an even more intimate setting, the Collab was designed with active learning in mind. Numerous educational institutions have found the Collab to be a great vehicle to foster collaborative learning among students.
To achieve maximum flexibility, consider the Quark. Users can sit, stand, gather in groups or remain apart, allowing for all kinds of unique possibilities in your computer lab space.
In spaces where small groups need to be able to access a common digital display, go with the Vista80 or the Boost. These collaborative conference tables allow for integration with your flat screen digital display to give your users the ability to focus on a shared visual reference point.
Many of our computer table solutions can integrate our patented flipIT® computer technology. Give your users computer access on demand: swing the computer monitor up when a computer is needed, and close it down and out of the way.
Customized Computer Lab Furniture
Over the years, we've found that a one-size-fits-all solution is a recipe for unhappy users. As a result, we've engineered our product line to accommodate a range of custom options, ranging from technical options to a wide selection of quality finishes. Let us know what you need, and you may be surprised at how much we can modify our products to fit your needs. And we have a range of accessories, including quality seating solutions and power & data components, to give you a complete solution that will fit your needs while staying within your budget.