Commercial Integrators

Commercial integrators need to achieve a constant balancing act between interior designers and technologists. SMARTdesks®, an industry leader in innovative technology furniture, is an invaluable partner in helping to create an attractive, highly functional meeting or training space.
Commercial Office Furniture Manufacturer
In the design of a new meeting or instructional room, much consideration is given to layouts and seating arrangements. It's the responsibility of the commercial integrator to engineer all the IT components that integrate with the technology furnishings. SMARTdesks® specializes in creating innovative furniture solutions engineered for easy technical integration and the best visual design.
Choose an industry veteran for your project. Since 1997, SMARTdesks® has worked with a range of Fortune 500 companies, colleges and universities. Whether you're remodeling an existing space or building a new space from the ground up, our range of experience can make the difference.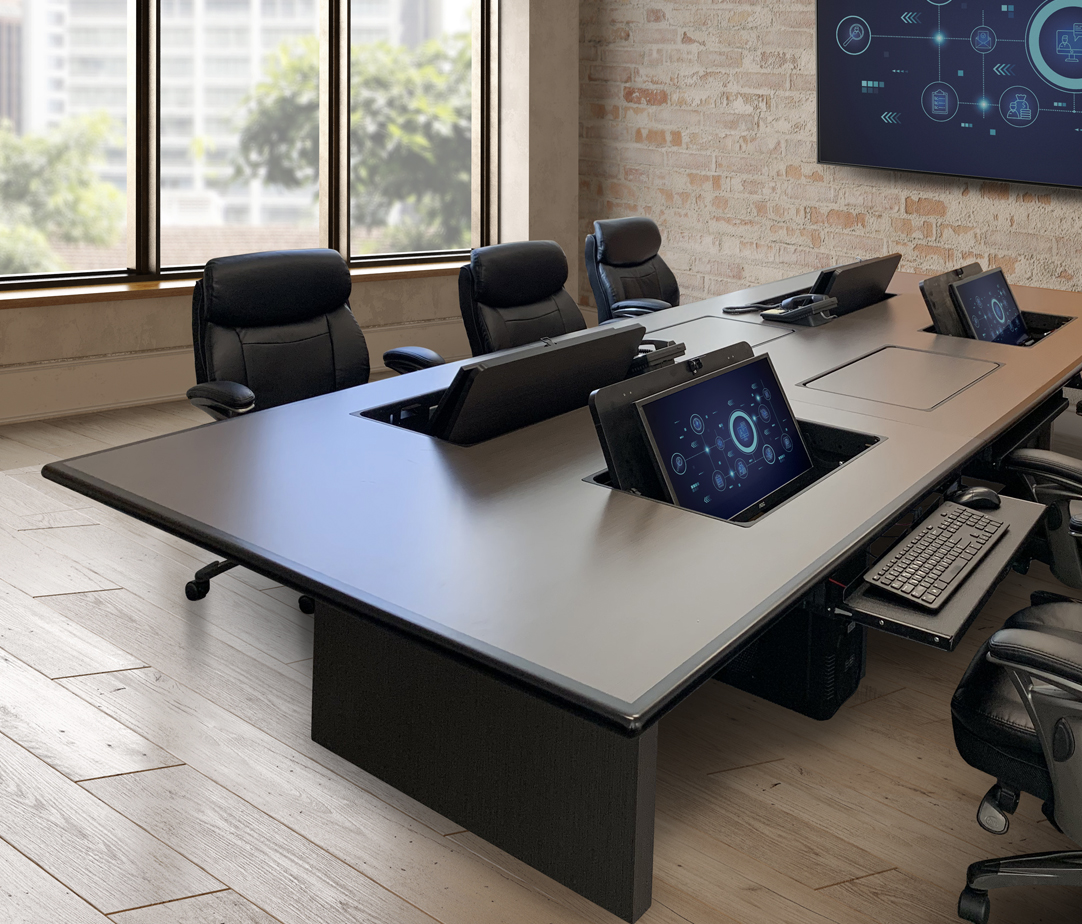 Custom Office Furniture Manufacturer
Technology requirements in the modern office and meeting space must meet modern challenges.
Employees and students need nonstop access to a laptop or desktop screen.
Users tend to have BYOD expectations in the workplace.
Regulatory issues such as ADA compliance are increasingly an issue.
COVID-19 has changed the way we work in public spaces.
Generic furniture cannot address those needs. SMARTdesks® has more than 20 years of experience developing a range of furniture solutions to suit modern technology integration challenges.
Computer lab furniture from SMARTdesks®, used worldwide in colleges and universities, is designed to easily integrate with any computer hardware and electronics.
Our line of computer conference tables has become the solution of choice for healthcare, military, government, higher education seeking technically sophisticated solutions. Desktop or laptop computers can be fully integrated into the table's architecture, keeping computers within reach of every user as needed.
Educators seeking use of active learning arrangements in the classroom require a unique furniture solution. SMARTdesks® active learning products create safe interactions with educators.
Many of our technology furniture solutions can leverage our patented flipIT hardware mounting technology. Access the computer screen when it's needed, and close it when not needed.
Raised Computer Flooring
FFIT Computer Floor from SMARTdesks® is a break-through in raised flooring design that is prefabricated for your space. Designed for fast installation over existing carpeted floors or bare floors without tedious assembly, adhesives, laser leveling, or demolition this product does not require expensive trade laborers to install.