Colleges and Universities

Colleges and universities can have uniquely challenging requirements in extending quality educational settings to professors and students alike. Let SMARTdesks®, an industry leader in innovative educational furniture, help you deliver a quality instructional and study space to your user base.
College & University Technology Furniture: We're The Experts
Higher education has higher student workspace requirements for students and faculty alike. SMARTdesks® has responded with a durable, innovative product line that is built for maximum versatility to fill the needs of the modern university. Integrate your technology with our customizable furniture solutions.
Go with the industry veteran. In business for more than two decades, SMARTdesks® has worked with colleges and universities across the nation, including:
Arizona State University
Duke University
Gallaudet University
Gulf Coast State College, Panama FL
Ohio State University
Purdue University
Texas A&M University
University Of Houston
University of Michigan
University of Notre Dame
and many more!
We've learned plenty along the way, and can help you avoid many pitfalls and unexpected challenges that can arise when remodeling an existing space or building a new space from scratch.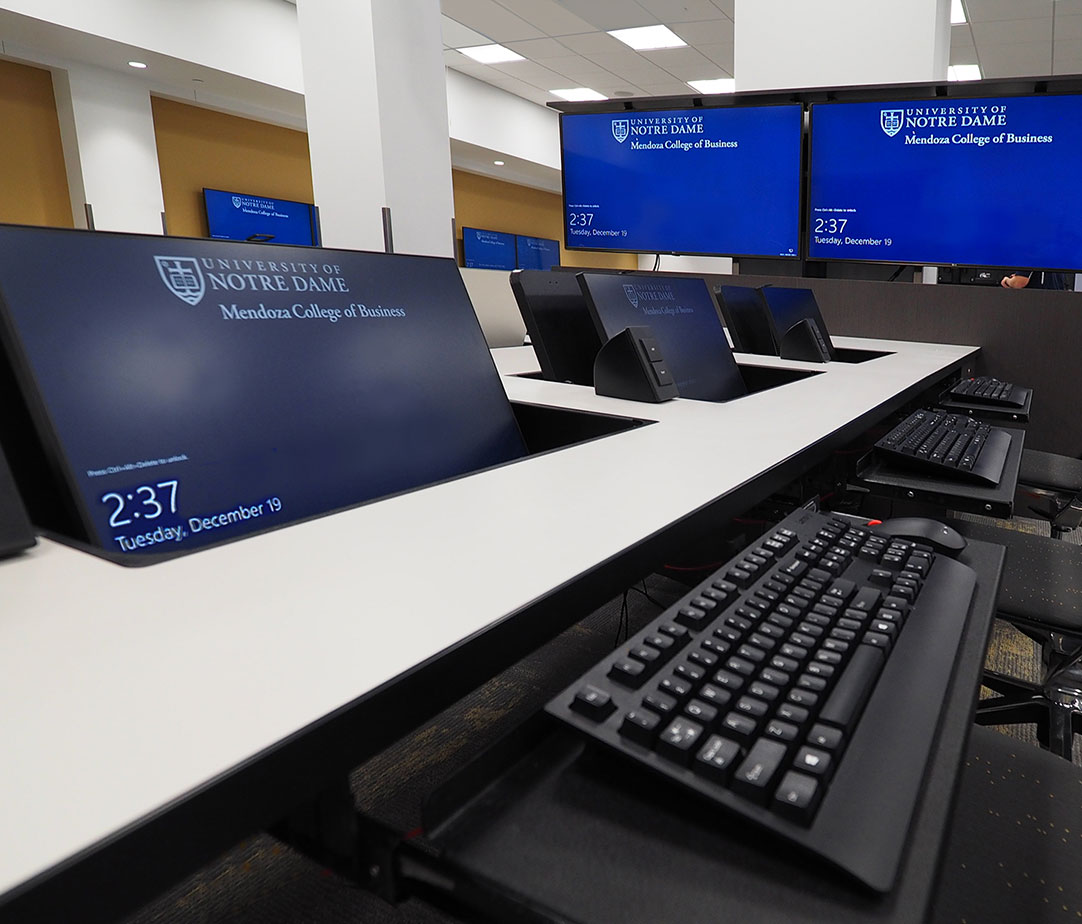 College & University Computer Furniture Solutions
Higher education today has to deal with constantly evolving requirements on the part of students and faculty alike. Modern educational spaces must offer maximum flexibility for individual study, small team meetings and larger group instruction. And universities find themselves in the situation of making computers available to students and accommodating BYOD expectations on the part of their users.
SMARTdesks® has developed a range of furniture solutions from the ground up to fit the requirements of the 21st century institution of higher learning.
Our Motif and Artisan computer tables are designed with educational institutions in mind. Available in a range of finishes and colors, these furniture solutions help foster group collaboration while also allowing for individuals to hunker down and focus.
The Exchange and Quark desks were designed to fit the needs of active learning environments while also providing computer access on demand.
For spaces where small groups need a common digital viewpoint, the Vista80 and the Boost collaborative conference tables allow for integration with your flat screen digital displays, giving your users the ability to see eye to eye and look at the bigger picture.
And many of our computer table solutions can integrate our patented flipIT® computer technology. Swing the computer monitor up when computer access is needed, close it down within the desk surface when it isn't.
Customized Computer Furniture Solutions
SMARTdesks® doesn't believe that one size fits all. While our product lines can work well out of the box, if customization is needed, we pride ourselves on maximum flexibility. Let us know what you need, and you may be surprised at how much we can modify our products to fit your needs. And we have a range of accessories, including quality seating solutions and power & data components, to give you a complete solution that will fit your needs while staying within your budget.